I think I'm going to start a new thing on Mondays where I talk about a memory I have. I am not a fan of Mondays and so I'm hoping this will spice it up a bit!
Of course, it's not as much fun if you don't share your stories or memories so leave a comment with however much you care to share.
Today's topic: Childhood Playhouses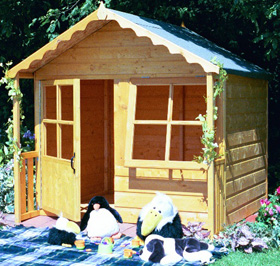 Today's memory comes from my younger days. I was three-years-old and my parents were building a house, right next to wear our trailer was at on our land. I remember the excitement of watching the crews build our home and watching my mom paint the various rooms in our home. She asked me what color I wanted my room and being a three-year-old little girl the obvious answer for me was pink. I had pink carpeting, light pink walls and flowered wallpaper in pink shades. I also had the neatest bay windows with a built-in toybox. I was in heaven!
The best part was when my mom would give me leftover scraps of wallpaper and I would try to decorate a huge cardboard box I was using as a playhouse on the front porch. I would assemble various dolls and stuffed animals in there and play for hours. I was sad when the box finally fell apart and my playhouse was no more.
I always wanted a pink playhouse when I was little and I got that...sort of. My dad made me a pink treehouse. It was great until the wasps tried to take it over!
Your turn!