I thought I'd get in on the
Blizzard Bloghop
that's going on this weekend and maybe meet a few new people.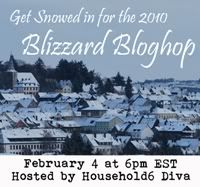 My name is Melissa and instead of doing a lot of writing about who I am I thought I'd say it through pictures.

This is my husband Sean and I. Sean is in the military and we live in Italy.


This is our "son" Boomer. He's a 2-year-old Min-Pin and he's the cutest and naughtiest dog you'll ever meet.
Sean and I are from the great state of Oklahoma.
I graduated from this fine university with a degree that really gets me nothing in life. So..I'm thinking of going back to school and I'm also working on starting a photography business.
My main loves are:
Food
Photography
And Travel
Basically my blogs consist of what military life is like for me as a spouse, my frustrations, my loves, pictures I've taken and fun things like giveaways, Questions of the Day and odd items I find on Etsy.